Nov 26 2020
The Canadian headquarters of Corporate Trade agency Active International today announces its move to a new office space in Markham on January 1, 2021. The move is an agile response to the COVID-19 pandemic and the future of work.
"This is more than a location change. We re-imagined the way we should work in order to deliver on the emerging needs of clients and our employees.  They need creativity, innovation, and agility in responding quickly to market changes and opportunities," says President and Managing Director Andrew Bulmer.
To achieve this, Active International is encouraging more flexibility for its employees to balance 'head-down,' distraction-free work, with dedicated collaboration time.
"Gone are the days of spending hours commuting to an office, only to spend your day head down in a laptop.  We can do that far more efficiently from home," says Kimberly Presnail, VP Marketing & Culture.  "When an Active Canada team member invests the time to commute to our new office, it will be with the intent to collaborate together – things that are less effectively accomplished in a virtual setting."
Active says that allowing its employees to work from home reduces commute time and empowers people to take control of their day and balance work/life in a way that can be more difficult in a traditional structure.
Active had a flexible work policy pre-dating the pandemic, so the transition to work exclusively from home throughout COVID-19 was seamless.
"With more time back in their day, and a supportive culture to balance work and life to their best ability, our teams are more engaged and empowered to deliver on client expectations during a time of significant change within the media industry," says Bulmer.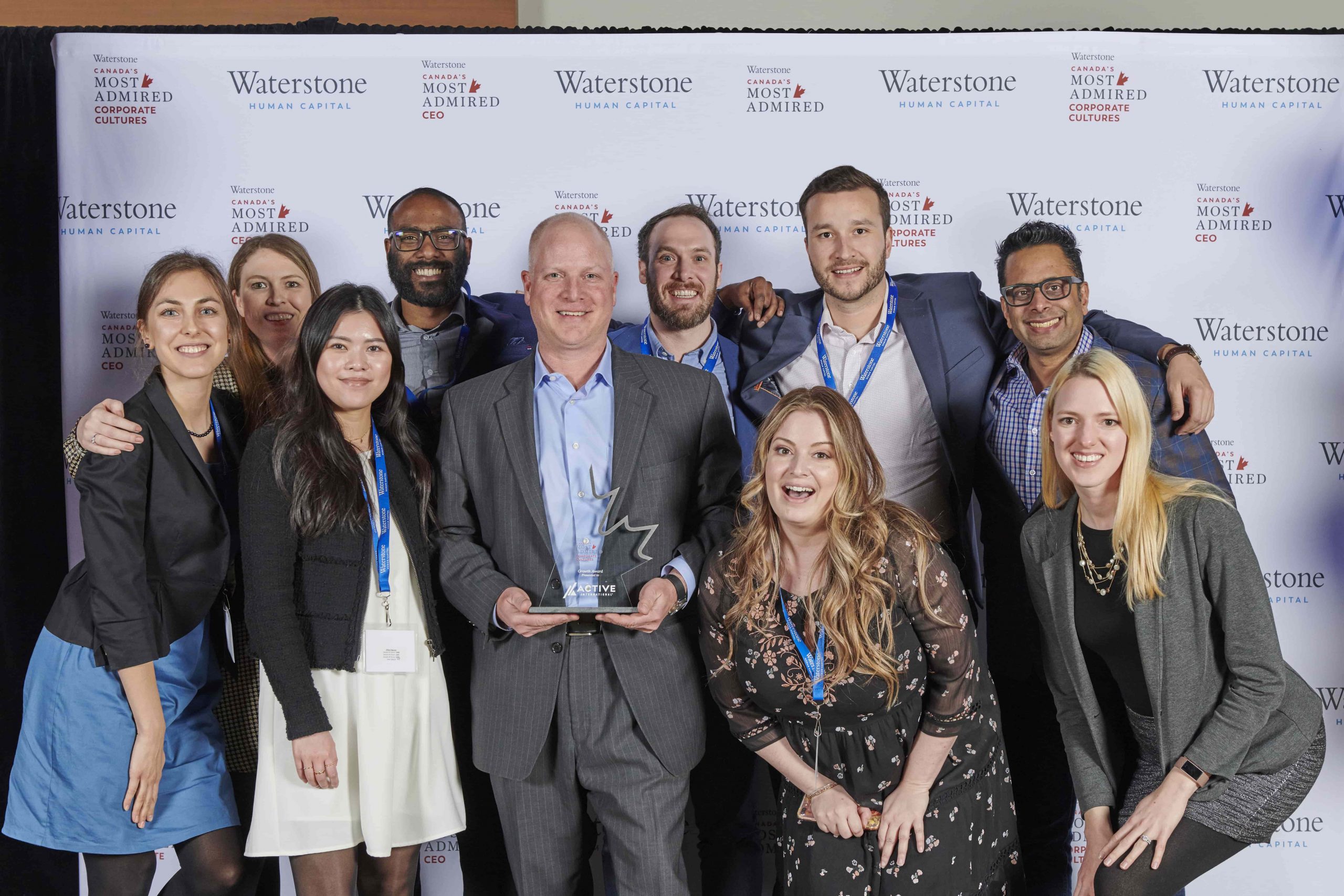 Providing this flexibility has had a positive impact on employee wellbeing, engagement, culture and ultimately business results. Active's pre-pandemic 5-year topline growth was over 80%, and the company has made its way into a number of best workplace lists, including:
Waterstone's Most Admired Corporate Cultures (2019-2020)
Great Place to Work Best Workplaces in Canada (#22), Best Workplaces for Women, Best Workplaces for Today's Youth, Best Workplaces for Professional Services, and Best Workplaces in Ontario  (2020)
Morneau Shepell's Employee Recommended Workplace (2017 – 2020)
"Not only will this help us operate more effectively as a team, we know that it will ultimately help us be better partners to our clients." says Presnail.
The new office is located in East Beaver Creek in Markham, bringing the team closer to many clients who are located outside the downtown core.  It is a smaller real estate footprint, featuring increased collaboration space, and a socially distanced and ergonomic friendly hotdesking environment.
On interim plans, Bulmer says, "The health and safety of our employees and clients remain our most important priority.  Most of our team will continue to work primarily from home and virtually for the near future, until it is safe and people feel comfortable to return to the office. We feel we are well prepared for a robust 2021 in our new work environment."
-30-
About Active International:
Active International is a global Corporate Trade company with offices in 14 countries. They enable businesses to fund their advertising using their own products, assets or services. They have over 30 years of experience bringing value and connecting businesses all over the globe. Powered by Corporate Trade, they help businesses innovate while they operate to Achieve More.
Media Contact:
Kimberly Presnail
VP Marketing & Culture | Active International
647-880-5624 | Kimberly.Presnail@activeinternational.com
FOR ADDITIONAL INFORMATION & DOWNLOADABLE MATERIALS PLEASE VISIT: ActiveInternational.ca/MediaRoom