FOR IMMEDIATE RELEASE
ACTIVE INTERNATIONAL NAMED A 2019 BEST WORKPLACES™ FOR MILLENNIALS
Millennial-friendly environment coincides with longer tenure
(Toronto, ON) October 09, 2019 – Active International, a leading media and asset solutions company, has been named a 2019 BestWorkplaces for Millennials by Great Place to Work®, after a thorough and independent analysis conducted by Great Place to Work® Institute Canada.
Millennials became the largest generation in the workforce in 2016. Contrary to the job-hopping Millennial stereotype, when Millennials find a great workplace, they are 50x more likely to want to work there for a long time and 149x more likely to recommend their company to friends and family as a great workplace, according to the Managing Millennials research report by Great Places to Work.
Active International's experience confirm this, "Almost half of our employees have been with us for over 5 years." says Kimberly Presnail, VP Marketing and Culture for Active International, "The #LifeAtActive stories our employees choose to share on social media have all had a positive effect on our recruitment efforts."
To be eligible for this list, organizations must be Great Place to Work Certified™ with at least 30% of their employees in the Millennial demographic (born after 1980) and they must have
minimum 90% positive response to the statement "I am treated fairly regardless of my age".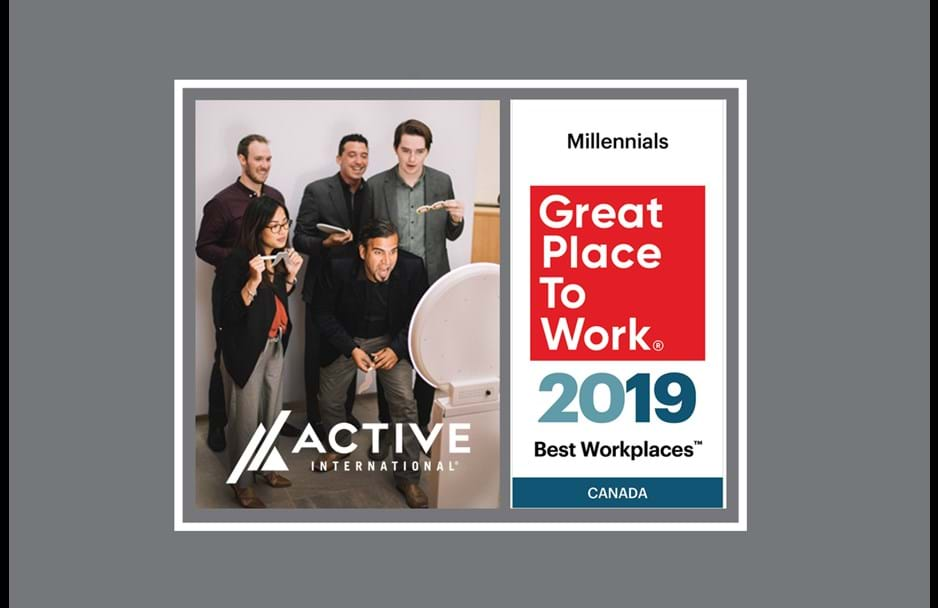 Active offers a variety of benefits appealing to this age demographic, including flexible working hours, work from home twice a week, tuition assistance, a healthcare spending account, fitbit and other fitness reimbursements, charitable contribution matching and paid volunteering days.
"Active International Canada has transitioned into a locally-based, high-performing culture where employees of all ages feel trusted and empowered to innovate and give back to the community." says President and Managing Director Andrew Bulmer, "This focus on culture has had a real impact on our business performance– even during a disruptive period for the media industry."
Notable highlights include:
• 62% top line business growth over 3 years
• Internal employee satisfaction survey consistently ranking
above 90%
• Recipient of the Globe & Mail's Employee Recommended
Workplace designation for 2017, 2018, 2019
• Low voluntary turnover of 4%
• Executive team is made up of 63% women
Active scored an impressive 92% overall average under the Great Places to Work® Trust Index© across categories of credibility, respect, fairness, pride and camaraderie.
"Trust and integrity are at the heart of our culture and core values. Attract and hire the right people, give them trust and flexibility in work/life, and trust them to do the right thing." says Bulmer.
About Active International:
Active International is a global commercial innovation company and leader in corporate trade. They are the only independent corporate trade company in Canada, with the largest Canadian-based team. With 35 years of experience in corporate trade, Active creates innovative solutions in the media and supply chain ecosystem that unlock value and help businesses Achieve More. Purchasing close to 2 billion dollars in advertising each year globally, Active is a datadriven company with media expertise at the core of its operations. For more information, visit activeinternational.ca
About Great Place to Work®:
Great Place to Work® (www.greatplacetowork.ca) is the global authority on high-trust, high-performance workplace cultures. Through proprietary assessment tools, advisory services, and
certification programs, Great Place to Work® recognizes the Best Workplaces™ across the world in a series of national lists including those published by Fortune magazine (USA) and The Globe & Mail (Canada). Great Place to Work® provides the benchmarks, framework, and expertise needed to create, sustain, and recognize outstanding workplace cultures. Follow Great Place to Work® at www.greatplacetowork.ca
Media Contact:
Kimberly Presnail
VP Marketing & Culture | Active International
647-880-5624 | Kimberly.Presnail@activeinternational.com
FOR ADDITIONAL INFORMATION & DOWNLOADABLE
MATERIALS PLEASE VISIT: ActiveInternational.ca/MediaRoom