We partnered with the China National Tourist Office London and marketing consultant specialists Make it China to help organise an event that would bring our international offices together for a virtual "Cook Along" over a fun Zoom call.
Our colleagues from Canada, Mexico, France and the UK came together to learn how to make Golden Treasure Eggs from the Hunan province. Our hosts from Make it China / CNTO London explained the Chinese New Year and Spring Festival traditions and even tested our newly acquired knowledge with a surprise pop quiz!
Last year we launched our formal Diversity, Inclusion and Belonging working group. This event is just one of our planned initiatives committing to our Education, Reflection and Action pillars.
Learn more about Spring Festival and Chinese New Year traditions at http://activeint.uk/cny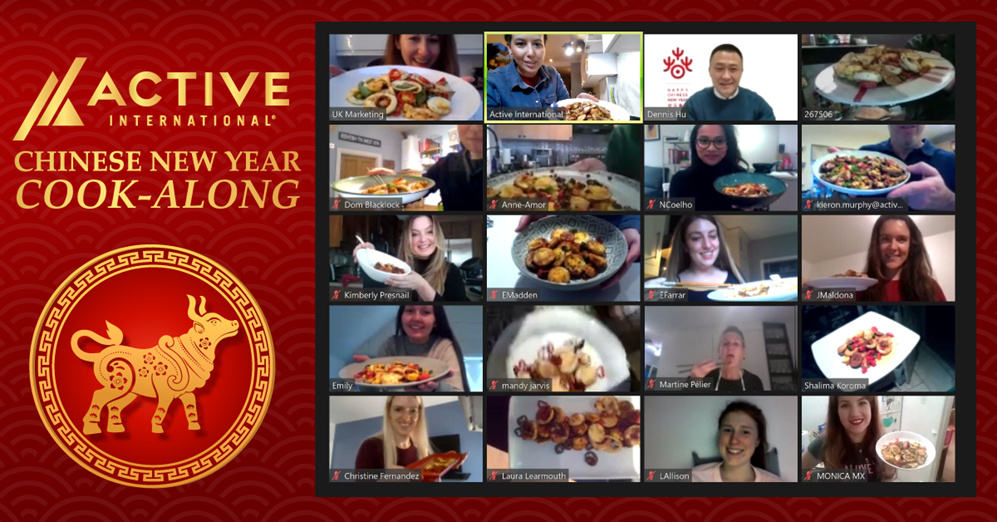 MAKE IT CHINA
Our partners at Make it China founded their business on the need for services that bring together the best of China, and the best of the Western world. Make it China's mission is to achieve greater communication and facilitate the sharing of ideas and information. They seek to make introductions, open dialogues, and new communication channels. Visit Make It China to learn more about the marketing services they offer.

"Our core value is that deeper and wider communication leads to increased success, better results, more innovation and ultimately, a better society."
Dennis Hu – Co-Founder – Make it China
DIVERSITY, INCLUSION & BELONGING AT ACTIVE
In striving to be an employer of choice, Active has always focused on creating an environment to support employees to be the best they can be. In our current and future industry, developing a diverse and inclusive culture is vital in building a workplace that makes everyone feel involved and supported in work and life.
We succeed by being better allies and building self-awareness to create knowledge of how we can use our own privilege to amplify others' voices for a more equitable environment.
Our ambition, both for international and relevant to local markets, is to apply continuous learning and integrate our framework of Diversity, Inclusion and Belonging into each area of our operations and culture, actioning real change by creating our own inclusive language, enhancing policies and practices, and finding meaningful ways of celebrating our differences.